Introduction
Transplantation of human cells and tissues from one human to another is a branch of medicine that enables the restoration of reproduction, form and function, and enhancement of the quality of life. The general term for activities of retrieval, processing, storage and distribution of human tissues for medical use is Tissue Banking; the formally organized entities conducting such activities are termed Tissue Banks. Tissue Banks may limit their activities to the collection and distribution of only one kind of tissue.
Cultural traditions have placed great emphasis on the right of person-hood, treatment of the dead body with dignity, and rights and duties of kin to dispose of the mortal remains of close relatives. Apart from technical considerations, tissue banking carries a heavy responsibility to retrieve, process, store and distribute tissues in a professional manner; to remain sensitive to the cultural and religious context of the work; and to remember that this activity is a privilege conferred by society and NOT an intrinsic right of the medical profession. The organizations listed below have published sets of Standards in an attempt to meet the requirements designed to promote safe and efficacious tissues and cells. Adherence to the General Standards is an integral part of Good Manufacturing Practice, which in turn is an essential ingredient in a Total Quality System, which covers every facet of the activity.
Scope and Purpose of General Standards
General Standards are intended to be applicable, where appropriate, to any and all forms of tissue banking: retrieval, processing, storage and distribution. In general, they represent the current thinking of a diversified group of experienced practitioners of tissue banking who have pooled their efforts to extract general principles and philosophies of banking operations common to all and to highlight specific considerations which pertain to certain categories of tissues. The fact that General Standards represent the current thinking means that reviews have to be undertaken on a regular basis (for example the American Association of Tissue Banks has reviewed its Standards for Tissue Banking biennially since 1985).
General Standards are generally published by associations of tissue, banks which have agreed policies on the wide range of issues which must be addressed. Within the Asia-Pacific Region, Australia has published National Guidelines. Usually each Tissue Bank operates to its own standards as laid out in, its policy and strategy documents but these should conform to both National and International Standards. The following Associations have produced Standards, which their members are obliged to follow:
American Association of Tissue Banks
1350 Beverly Road
Suite 220A, McLean, VA 22101, USA
Standards for Tissue Banking 1993
European Association of Musculoskeletal Transplantation
C.L.Delloye
Universite Catholique de Louvain,
Bruxelles, Belgium
Standards for Tissue Banking
American Red Cross Tissue Services
2205 E Street NW,
Washington DC 20006, USA
Standards of the American Red Cross Tissue Services, 6th Ed. 1994
EATB General Standards of Tissue Banking
Australian Orthopaedic Association. National Guidelines for Bone & Tissue Banking
Therapeutic Goods Administration
Commonwealth Dept. of Health,
Local Government & Community Services,
PO. Box 100 Woden ACT 2606, Australia.
Guidelines for Tissue Banking in Australia:
ďAn Australian Code of Practice for Transplantation of Cadaveric Organs and TissuesĒ National Health and Medical Research Councils, Canberra.
At the outset it is important to identify the entire range of operation of any manufacturing process, which are embraced by Good Manufacturing Practice and Quality Assurance. To ensure safety and efficacy it is even more vital that these principles, be adhered to with biological tissues than with inanimate products. A GMP document has no statutory force and should not be regarded as an interpretation of any Act, Regulation or Directive.
What are Quality Systems
All businesses, large and small, already have an established way or system of doing business. In a small business, the likelihood is that the system is quite effective but informal and probably not documented. Quality System standards identify those features which can help a business consistently meet its customersí requirements. They are not about imposing something totally new.
Quality systems are about evaluating, how and why things are done, writing down how things are done and recording the results to show they were done. Many small businesses will already be carrying out many of the operations, which the standards specify.
Why Should one have a quality system ?
Some customers in both the private and public sectors are looking for the confidence that can be given by a business having a quality system. While meeting these expectations is one reason for having a quality system, there may be others, which could include the following:
| | |
| --- | --- |
| | Improvement of performance, coordination and productivity. |
| | Greater focus on your business objectives and your customerís expectations. |
| | Achievement and maintenance of the quality of your product to meet the customerís stated and implied needs. |
| | Management confidence that the intended quality is being achieved and maintained. |
| | Evidence to customers and potential customers of the organizationís capabilities. |
| | Opening up new market opportunities or to maintain market share. |
| | Certification / Registration. |
| | Opportunity to compete on the same basis as larger organizations. |
What are the ISO 9000 standards ?
The ISO 9000 series, which has gained international recognition and acceptance, is a set of standards some of which specify requirements for quality systems (ISO 9001, ISO 9002 AND ISO 9003) and others which provide guidance to aid in the interpretation and implementations of the quality system (e.g. ISO 9000-2, ISO 9004-1).
The Bangkok Biomaterial Centerís pursuit towards the harmonization of standards in the Asia Pacific Region commencied with an an international quality assurance program. This is the first step towards the attainment of ISO 9002 Quality assurance system certification. A glimpse of the landmark events at the Center towards the attainment of ISO 9002.
| | |
| --- | --- |
| | JULY 1994 : Initiation of the 1st weekly operations meeting of the Staffs of Bangkok Biomaterial Center. |
| | MARCH 1999 : 1st system study for ISO 9002 quality assurance system development plan. |
| | NOV 1999 : Inital feasibility study conducted for the development of ISO 9002 quality assurance system program. |
| | JULY 2000 : 1st phase work for the establishment of ISO 9002 quality assurance system commenced. |
It is expected that the Center will be able to complete its documentation work by the end of December 2000. It is also planned to impliment for 6 months, the documentations prepared for the ISO 9002 and finally the certificaiton is expected by August 2001.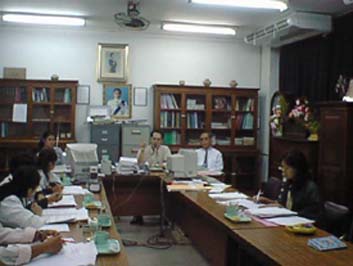 ISO meeting being held at BBC