Overseas Lecturer (

IAEA Expert Mission)

Dr. NORIMAH YUSOF

INTRODUCTION

Under the Advance Training Course -Cum- Master Degree Programme, the Center had requested the International Atomic Energy Agency vide its letter dated 12.04.1999 for the recruitment and assistance of international experts for delivering lectures on advance topics in Tissue Banking. One of these experts requested by the center was Dr. Norimah Yusof, Director of Agrotechnology & Biosciences Division, Malaysian Institute for Nuclear Technology Research (MINT), MALAYSIA. The agency vide its letter no: RAS/7/008-09 dated 20.09.1999 informed the Center about the submission of Dr. Yusof as expert lecturer. Accordingly the visit was finalized from 26

th – 30th October 1999.
LECTURE TOPICS OF Dr. NORIMAH YUSOF

1. Effect of radiation on micro-organism
2. Effect of radiation on tissue allograft
3. Selection of sterilization dose
4. Sterilization of health care products; requirements for validations and routine control in
relation to dose
5. Quality system and audit in relation to tissue banking
CONCLUSION: The wisdom with respect to advance topics in tissue banking gained from the visit of Dr Norimah Yusof was immense. The visit helped the Center, it's scientists, technicians and the Master Degree students to learn advance subjects of radiation sterilization in tissue banking in depth and in details. This confidence in itself is a landmark to the setting up of the first course. The Center is thankful to Agency and Dr. Yusof for all the help and co-operation in the dissemination of knowledge.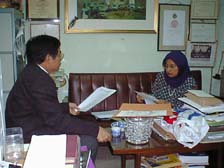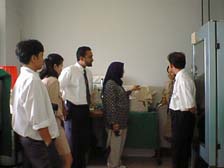 Prof. Yongyudh and Dr. Norimah discussing the detail about the lecture Dr. Norimah being taken for around of BBC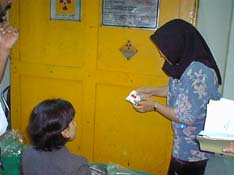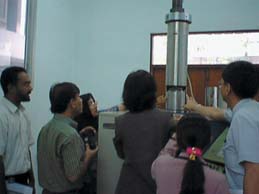 Dr. Norimah demonstrating about the work of sterility Dr. Norimah explaining the tips and tricks of the functioning
sticker to the fellows and staff of BBC of the Gamma chamber
Miss. Jirapa technical assistant of BBC demonstrating IAEA fello Mr. Sunanda making a presentation of his assignment to the audience
the working of the Gamma chamber.
Dr. Norimah delivering lecture while guest
from Malaysia pay attention